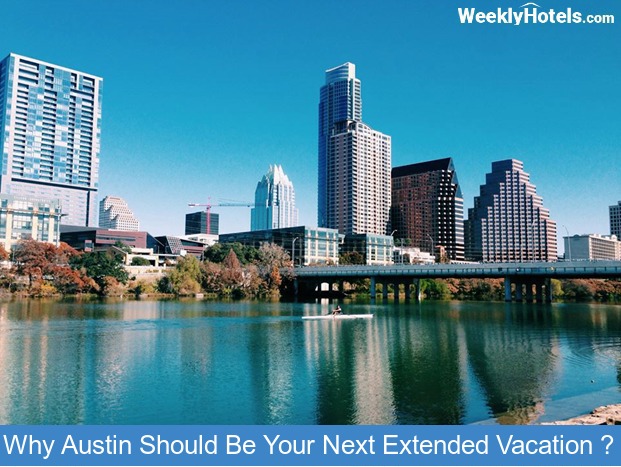 Austin is a big city in Texas that everyone should visit at least once. With something for everyone, consider the city for your next long vacation. Its location makes it an ideal destination for someone looking to get away from the city and explore nearby towns as well.
Whatever you're into – hiking, paddle boarding, rock climbing, art, music, food, there is something to discover. An eclectic city in Texas, Austin is best enjoyed with some brisket, and a side of fresh coleslaw.
If you're looking to stay more than a week, there is an abundance of things to see and do that'll leave you wishing you could stay even longer.
Austin is a stunning place that has managed to preserve green space. There is no shortage of outdoor activities for those who wish to kick back with nature.
Here's a brief glimpse of why you should consider Austin for your next destination according to the team at weeklyhotels.com
The Cuisine
Tex-Mex is a unique spin on Mexican food and Austin certainly has no shortage of it.
Whether you identify as a foodie or not, Austin is a place for those who like to eat. Part of understanding a new city is the cuisine and Austin is just the place to experience a rich combination of flavor, history, and distinctiveness. Five tasty places to try that will not disappoint are:
Trudy's, a go-to for good Tex-Mex and a fun time
Highlights: Stuffed avocado, migas
Taqueria Aranda's,
Highlights: Fajita burrito, migas
El Chilito: Manor Road location
Highlights: Breakfast tacos, horchata
Tacodeli, a local favorite. Tacodeli is a great spot for great food. Highly recommended by locals
Highlights: Cowboy tacos, fish tacos, Al Pastor
Licha's Cantina
Highlights: MARGARITAS, homemade salsas
BBQ
It's not Texas without the BBQ. Austin offers some of the best, authentic, melt-in-your-mouth variety. Check these out:
Scotty's BBQ
Highlights: Brisket, pulled pork, lots of flavor
Micklethwait Craft Meats, an unpretentious place for some of the best BBQ I ever tasted
Highlights: Brisket is exceptionally tender and portions are huge
Brown's Bar-B-Que, a simple yet must-try if you are in Austin
Highlights: Mac and cheese, pork ribs
Must Dos
Generally speaking, Austin is the perfect blend of urbanity and greenery. Families can find the idyllic park to relax in or walk around the city. On the other hand, nightlife is also a unique experience: full of live music, dancing, and all around good times. Austin isn't too far from smaller towns like Gruene, Fredricksburg and Wimberley, which have an authentic Texas cowboy feel. Short day trips will augment your Central Texas experience.
Barton Creek Greenbelt
One beautiful park is the Barton Creek Greenbelt. A beautiful collection of trails, water, swimming holes, and natural scenery, the various entries into Barton Creek recreation area provide perfect excursions for children, adults and pets alike.
Natural water attractions
Hamilton Pool is an oasis just outside of the Austin city limits. With its waterfalls and deep spring-fed pool, it is a perfect, quick escape from the rush of the city.
Barton Springs, Austin's quintessential summer spot, is an urban cold-water spring. You will find both locals and tourists tanning on the grassy hills and braving the "freezing" temperatures.
Kayaking and stand-up paddle boarding on Lady Bird Lake are great ways to spend a hot day in Austin. In the middle of Downtown, Lady Bird Lake provides a unique vantage point of the city and allows people to fully experience the city's landmark lake.
Nightlife
Chicken Shit Bingo at Ginny's Little Longhorn – SUPER LOCAL
Coldtowne Towne – BYOB standup comedy – SUPER LOCAL
Rainey Street – Old homes converted into bars and restaurants
Finding the Right Long Term Stay Property
Austin is simply one of those cities that you can spend months in and still feel like there is a load more to discover. Staying for a week or more is the best way to experience this one of a kind city. A really good choice for those who want some downtime after an adventurous day is a hotel geared towards lengthier stays. This gives you the choice of cooking and working out, with the added bonus of housekeeping! At weeklyhotels.com, we try our best to find you lodging that is wallet-friendly and comfortable. The site lets you compare prices, amenities, and reviews so you can spend more time planning your trip. Some extended stay hotels that are located in more peaceful areas and are reasonably priced are:
Staybridge Suites Austin Arboretum
Address:  10925 Stonelake Blvd
Austin, TX 78759
This is a great hotel for relaxing – a wonderful choice if you're looking to experience Austin together with multiple people. The suites are spacious and clean, with studio, one room, or two room options. This hotel is newly renovated. The perks of this place:
Free laundry room
Fully equipped kitchens

Candlewood Suites Austin-South
Address: 4320 Interstate 35 Service St
Austin, TX 78745
This property is located near central Austin. Rooms are decently sized and come with kitchenettes. If you're looking to stay longer, this hotel is a good choice.
This site has all the amenities that make for a comfortable stay.
Kitchenettes with utensils and microwave
Pool and fitness center (burn off that BBQ)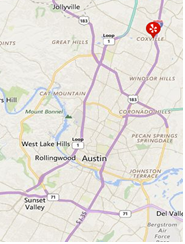 Residence Inn Austin North/Parmer Lane
Address: 12401 North Lamar Boulevard
Austin, TX 78753
This hotel is a little off the beaten path which makes it a good place for extended vacations requiring some R&R time. Good location in northern Austin. Rooms are quite large and clean. This place has a home away from home feel that suits long vacations. Here is why this hotel makes for a good extended stay option:
Full kitchens with dishwashers, stoves, and microwaves
Pet friendly policy
Marriott member rates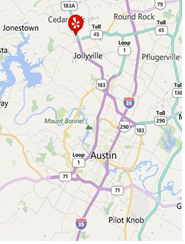 Home 2 Suites
Address: 14022 US Hwy 183
Austin, TX 78717
A really comfortable stay with a contemporary ambiance. A new brand of Hilton hotels that differentiates itself based on its non-traditional hotel vibe. Its location in the suburbs ensures that your time is quiet and peaceful.
Kitchens have new stainless steel appliances
Free breakfast